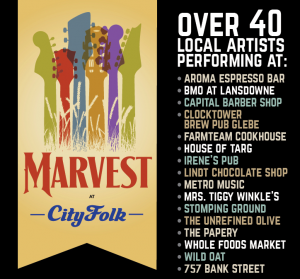 What is Marvest?
Marvest is a musical harvest. It is an offshoot of CityFolk that runs parallel to the festival in The Glebe and in businesses along Bank Stree
t. Most Marvest shows are FREE! The focus of Marvest is to present Ottawa with a feast of locally produced music. Saturday afternoon shows in Bank Street venues will be family friendly. Marvest is all about bringing people together in appreciation of local music.
Want to support local music in the community at Marvest?
Why not SIGN UP and VOLUNTEER at Marvest!