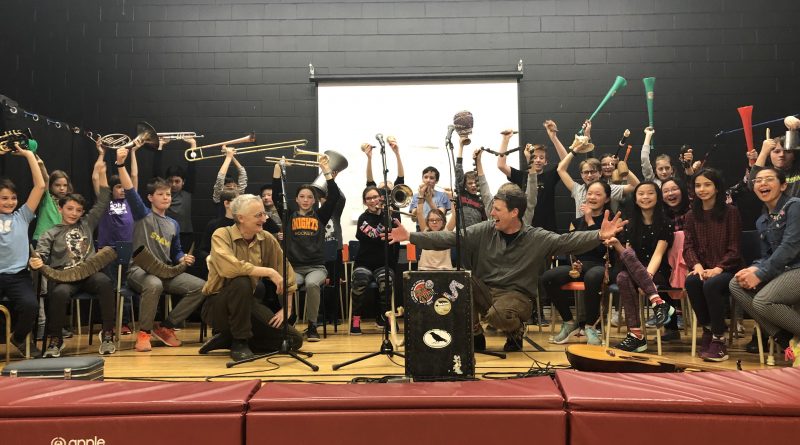 Blues in the Schools PDF Outline
How do schools get involved in the program?
Dates for the upcoming Blues in the Schools session are Feb 26 – March 8, 2024. 
Click on the link below to apply for the 2023/2024 school year (link takes you to a Google Form). 
For additional information, please email us at communityprograms@ottawabluesfest.ca
"We have a responsibility to the founders to pass on all that we have learned. If we don't teach the history, we are doomed to repeat it."
T.J. Wheeler – Blues Educator
---
When did RBC Bluesfest Blues In The Schools begin?
The program was initiated in two Ottawa-area schools in 1999 and has since seen tremendous growth. Each spring visiting artists/educators and local musicians deliver the program to thousands of students in Ottawa schools, contributing hundreds of hours of in-class instruction over a two-week period.
---
How does the program work?
The artists work with selected groups of students as part of the daily curriculum. The program is divided into two components – phases one and two.
PHASE 1 – Assembly-style presentation: Monday-Thursday
One hour-long presentation per day (preferably the first period in the morning or the first period after lunch);
Different performer per presentation (maximum of four presentations);
Presentations can include lectures, singing, or musical demonstrations;
Presentations are open to the whole student body.
PHASE 2 – Core Group Sessions: Friday to final Friday
One-hour sessions with selected core groups (no more than 30 students per day);
One artist/educator and one local musician throughout;
Teachers work with the visiting artists/educators to present the program;
Focus on more in-depth look at the history of music and music playing techniques;
Showcase performance for the student body during the final day of the program;
Opportunity to perform at RBC Bluesfest in July.
PHASE 3 – Blues in the Schools Supplemental Lessons Initiative (Cristina Rojas Memorial*).
After Blues in the Schools has finished, students who participated in the core groups are invited to sign up for a set of private lessons with our instructors at the Bluesfest School of Music and Art where they can further their interest on an instrument of their choice. (Note, this will not be offered during the 2021-2022 school year). 
*Cristina was a longtime volunteer who began with the Ottawa Bluesfest in 2007 and the Ottawa Folk Festival in 2013. Sadly we lost her to cancer in 2015. Cristina had a great sense of community. She believed in sharing with others her experience and skills in organizing, managing and working on events that would bring people together. This tribute is a true testament to Cristina's spirit of helping.
---
How do the students benefit from RBC Bluesfest Blues In The Schools?
Integral to our program is the mandate of reaching out to students and involving them in a universal form of communication; namely music. Music reflects the feelings of the times. Through Blues music and other styles, students learn how people can empower themselves with song through good times and bad. Our intent is to integrate students from different ethnic backgrounds and in this way teach harmony and coping skills that will lead to a more fulfilling school experience.
______________________________________________________________________________
"Wow what a presentation! Good afternoon Alan and Teilhard — I just wanted to say THANK YOU so much for the incredible presentation today! You were such a hit with the entire school (kids and staff). So many interesting instruments – my class loved all of the mouth harps but especially the didgeridoo! My son who is in grade 1 asked me to go to Fabricland this weekend so we can make our own didgeridoo! 
I hope to have you in school one day to perform live! 
Thank you again",
Kristi Blok
St Leonard
______________________________________________________________________________