'What's In The Song' is a new community songwriting initiative produced by the CityFolk Festival organization. The program launched it's first pilot location at Norman Johnson Alternate in Blackburn Hamlet in February 2018, followed closely by another at the Glebe Neighbourhood Activities Group. Alain Morier (founder of radio hitmaker The Barstool Prophets) and Juno award winner Kellylee Evans worked as coaches for the locations.  Thanks to the success of the pilot programs, we launched 5 official community locations in 2019 and more slated for 2020 to make 'What's in the Song' an annual community initiative of CityFolk.
Download the 'What's in the Song' Poster
About The Program
The program invites young musicians, songwriters and poets between the ages of 12-18 to gather in small groups to work on the craft of songwriting. A professional and established local songwriter will be the mentor for the duration of the class.
Over eight weeks, each hour and a half long session will be broken up into:
a) listening to and analyzing the forms and structure of songs, old and new
b) overview of basic chord forms and musical key concepts
c) group writing and techniques for idea development. Technology and how it can assist with the songwriting process.
d) individuals will bring in ideas for friendly feedback from the mentor and group.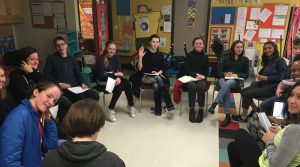 The goal is to create at least two complete songs each which will either be performed by the individual, group, or the mentor at a community coffee house near the end of the program. Participants who successfully complete the program can receive extended performance and participation opportunities through CityFolk Festival, Marvest, and RBC Bluesfest.
For Alternate Schools: in 2020, we partnered with 3 Ottawa Alternate Schools to offer songwriting programs at the end of the school year to assist students in finishing their credits. In total, 18 credits were generated through participation in the online course that may not have been fulfilled due to schools shutting down. Songwriting checks many requirements that students need for music, literacy skills and technology. Please contact us for more information on how to tailor a songwriting program for your school. 
This program is intended not just for performing musicians, but also for those students who like the idea of writing for the fun of it and possibly having other people perform their work on stage. Songwriting is a viable art form and career path now offered in Universities and community colleges across North America. 
---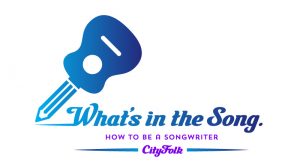 Do you think that your community might have an interest in hosting a program like this? Get in touch with us at wits@cityfolkfestival.com for more info on how to get involved.