Located at Lansdowne Park, CityFolk (formerly known as the Ottawa Folk Festival) is a family-friendly celebration of music, dance, and community featuring an eclectic mix of musical performances on multiple stages.
Click here to go to the CityFolk website
The festival has expanded into businesses in the Glebe with Marvest, a free event as part of CityFolk. Marvest is a harvest of local music featuring free performances in non traditional venues. We are family-friendly, community-focused, culturally diverse and committed to sustainability and eco-friendly initiatives.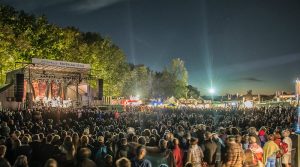 Our Mandate
Provide performers of a broad spectrum of musical genres with a space in which creativity, imagination, and exploration are celebrated as fundamental to personal expression.
Embrace the participation of visual artists and craftspeople as an integral component of the artistic community at the festival.
Treat our volunteers and staff, who are the heart of our organization, with respect and care, and provide them with opportunities for personal and professional growth.
Consider our sponsors and friends as valuable members of our organization, whose presence, ideas, and feedback are essential to the ongoing vitality of the festival.
Enhance the cultural life and contribute to the economic activity of the local community, the city, and the region; and encourage a sense of community in all who participate in shaping the festival, while challenging ourselves to uphold the values the festival promotes.