2019 Blues in the Schools: A Celebration
Another year of Blues in the Schools has come and gone and what a great year it was! Musicians from all over the Ottawa area as well as visiting artists from Cape Breton, Toronto, Peterborough, Manitoulin Island, and New Hampshire descended on Ottawa and surrounding area schools for a celebration of Blues and Roots oriented music and history. Students experienced musical presentations from Gospel to Blues, Celtic, R+B, as well as traditional instrument making and a history of communication through found instruments. The core group presentations (phase 2) were over the top inspiring with many talented students coming forward to share their hard work with friends, family members and teachers. Congratulations to all!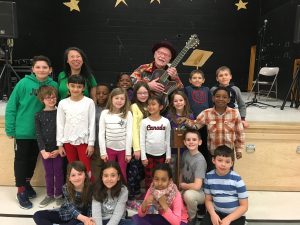 Special note: Corpus Christi Catholic Elementary celebrated their 20th anniversary participating in Blues in the Schools this year! Twenty years ago, Bluesman TJ Wheeler came to Corpus Christi bringing his flavor of Blues education to Ottawa students and helped to establish the Blues in the Schools program in the Ottawa area. Twenty years later, he returned with his East meets West music program featuring Flamenco guitarist James Cohen. Together they had students writing songs, and participating in flamenco dance and palmas. Also featured during the final performance was young piano student Julian, who accompanied TJ and James on a sweet Cuban tune. Capping off the day was an RBC Bluesfest Be in the Band group who played a song by Led Zeppelin.
Thank you to all participating schools, school boards, educators and artists for making the 2019 edition of Blues in the Schools a year to remember.